THE FIRST SYSTEMATIC REFERENCE WORK OF ARTISTS WHO VISUALISED INDONESIA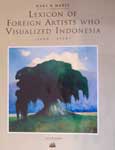 Lexicon of foreign artists who visualised Indonesia (1600 - 1950). Utrecht, Singapore, 1995. Large 8vo. Cloth, with dustjacket in full colour. With 800 illustrations including 96 pages with black and white illustrations and112 pages in full colour. 320 pp. e 175,-
The first systematic reference work on the subject. Including biographies and many illustrations not published before.
An essential tool of reference including nearly 3000 artist. Of every artist is listed a biography with as far as possible, dates of birth and death, if and when they lived and worked in Indonesia, details of their exhibitions, of the museums which hold their works and lists of related books and literature for further study. A range of illustrations in this first part of the book, including portraits of many of the artists, helps to make it more visual and vivid.
The second part of the work is a joy for every art lover. Never have so many illustrations of the art of this genre been collected together, and much of this material has not been published before.
A standard work on the subject, it is an invaluable guide for art dealers, auctioneers, curators, art book and print collectors, and a fascinating survey for all those interested in Indonesia.
Orders may be sent by e-mail directly to us.
LEO HAKS AND GUUS MARIS.